Navigate the Project Page
The Giant Earwig of St. Helena: Labidura herculeana

The Dodo of the Dermaptera
. A very special topic is the now extinct gigantic earwigs, the only one that made it on the
IUCN Redlist
. Although its difficult -- or logically impossible -- to prove extinction, I believ it is actually extinct. The special habitat was very small and on an island. So I guess its save to say that we lost this species for ever. I was lucky enough to study the museum specimens.
Most people want to know the earwig in their gardens or the Dermaptera fauna in their country, so let's start there.
Country Faunas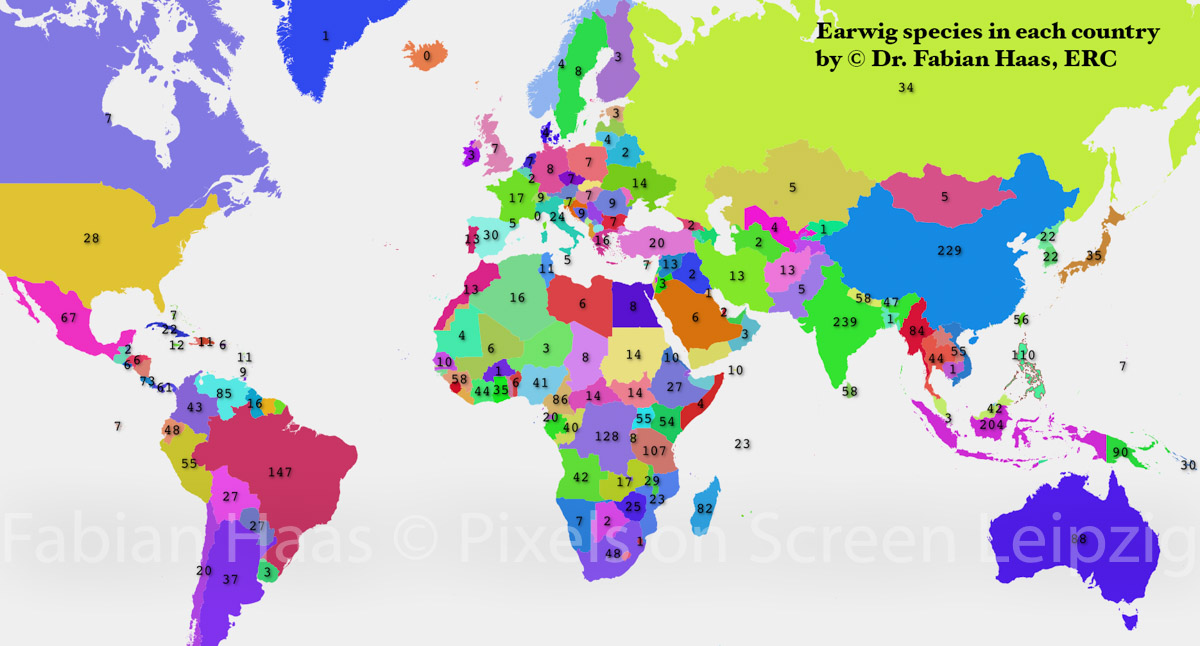 The country fauna
by InternetID
or
by Bio-Region
For the following countries, I have made faunas or checklists. They are usually quite up to date, but if you think I have missed something, please send me a note. I use the interned ISO codes: AR, AT, AU, BE, CD, CH, DE, FJ, GR, IE, IR, JP, KE, KOREA, NA, NI, PE, RU, SC, SD, TR, UA, UK, US, VE, and ZE. I am sure you know these codes. I used the traditional colour coding for the bioregions, pls see for yourself
Colour Coding of Bioregions
.
Databases
Now, the core of this webpage is actually the database, which contain thousands of records on literature, distribution data and photos. Over the years I had support of many people, programmes and institutions to input these data. Much was done during my time in Ulm, with Dieter Waloßek, and students, also with the SYSNTHESIS programme, I was able to travel to many important museums in Brussels, Paris and London. I had quite some freedom to work for "my" Dermaptera, when I was in Stuttgart. Thank you Christoph Häuser. For a more detailed list see the
Acknowledgements
page.
THE DATABASES ARE NOW OFF-LINE
What you don't expect ...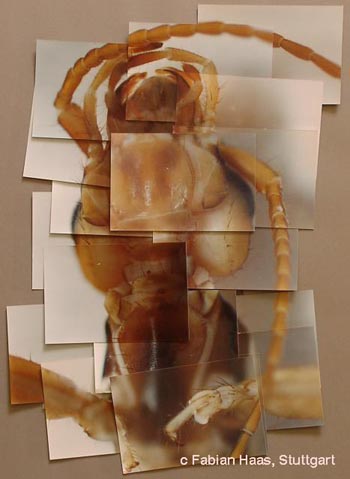 ... is probably that I am currently working as a photographer and video filmer in Germany with my
Pixels on Screen
firm. Please visit my page and, sure you can book me for photos from weddings, to animals and landscapes. I am also engaged in a project of
Poesie und Fotografie
and just have a look what we are doing there!
... and all the rest you expect
And it is conventional wisdom that there should be a download page on a scientist page, well I moved that to
ResearchGate
and largely discontinued my own download page. In case you cannot find a specific PDF please contact me directly. Also I will then provide a up-to-date publication list, this one is not fully up to date
my publications
.
I worked in and for quite a number of museums all around the globe to ID and photograph their specimens, please see my
References
.
And of course there is a Links page with interesting links on Dermaptera, esp Dermaptera in
Pest and Gardening
. Its called
Links.
Acknowledgements