Earwigs of Australia
Checklist of the 88 species occurring in Australia
---
---
Publications on Australian Earwigs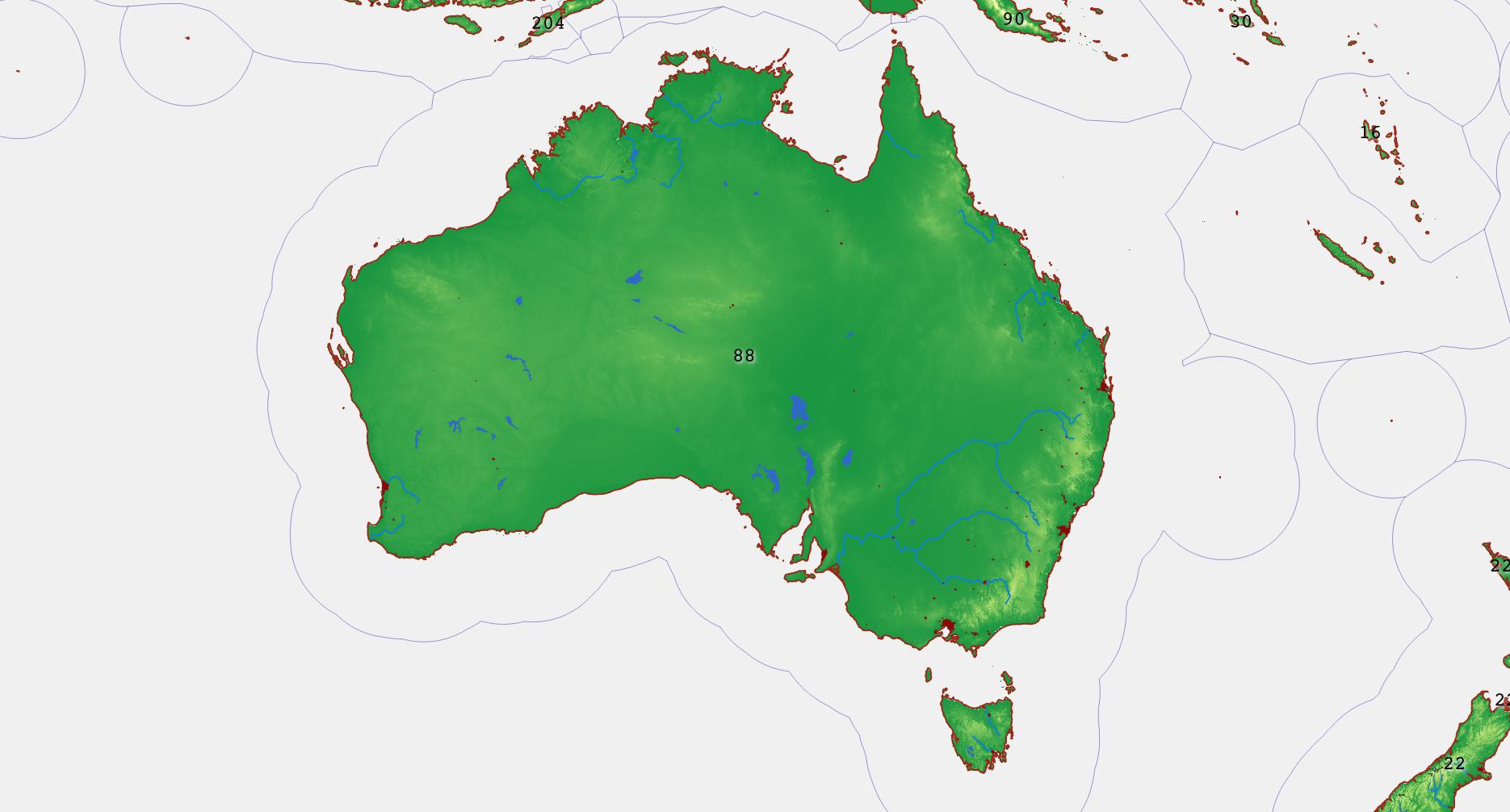 Burr M (1912) Die Dermaptera des k.k. naturhistorischen Hofmuseums in Wien. Annalen des k. k. naturhistorischen Hofmuseums, Wien, 26: 63-108.
Cassis G (1998) Dermaptera. Zoological Catalog of Australia, 23: 279-345.
Rentz DCF, Kevan DKMcE (1991) Dermaptera. Insects of Australia, 1: 360-368.
Srivastava GK (2003) On a collection of Dermaptera (Insecta) from Australia with the description of a new species. Records of the Zoological Survey of India, 101 (1-2): 135-138.
Williams G (2002) A Taxonomic and Biogeographic Review of the Invertebrates of the Central Eastern Rainforest Reserves of Australia (CERRA) World Heritage Area, and Adjacent Regions. Technical Reports of the Australian Museum, 16: 1-208.
Detailed information on the earwig fauna is available in the
databases
and in the
link list
.
---
Alphabetic List of Species
The Australian Earwig Fauna was perfectly compiled by the AFD, the Australian Faunal Directory, so I used their species list, which is available as downloadable TXT and XLS files on their
website
. Here is the checklist from the AFD site with modified systematics.
Family
Subfamily
Species (links refer to my photo pages)
Author
Common name(s) & Notes
1
Anisolabididae
Antisolabiinae
Antisolabis gisleni
(Hincks, 1954)
2
Antisolabis holdhausi
(Burr, 1910)
3
Antisolabis notonoma
Hincks, 1952
4
Brachylabidinae
Metisolabis punctata
(Dubrony, 1879)
5
Carcinophorinae
Anisolabis australis
Tindale, 1923
6
Anisolabis dohrni
(Kirby, 1891)
7
Anisolabis flavocapitata
Steinmann, 1979
8
Anisolabis littorea
(White, 1846)
9
Anisolabis maritima
(Bonelli, 1832)
Maritime Earwig, Seaside Earwig
10
Anisolabis nigrofusca
Steinmann, 1979
11
Anisolabis pacifica
(Erichson, 1842)
12
Anisolabis subarmata
(Kirby, 1900)
13
Anisolabis westralica
Burr, 1911
14
Carcinophora occidentalis
(Kirby, 1896)
15
Carcinophora venusta
Steinmann, 1989
my addition
16
Euborellia annulipes
(Lucas, 1847)
Ring-Legged Earwig
17
Euborellia brunneri
(Dohrn, 1864)
18
Euborellia jeekeli
Srivastava, 1985
19
Gonolabis dentata
Steinmann, 1981
20
Gonolabis electa
Burr, 1910
21
Gonolabis forcipata
Burr, 1908
22
Gonolabis gilesi
Steinmann, 1981
23
Gonolabis rossi
Brindle, 1987
24
Gonolabis tasmanica
(Bormans, 1880)
25
Gonolabis woodwardi
Burr, 1908
26
Titanolabis bormansi
Srivastava, 1983
27
Titanolabis centaurea
Steinmann, 1985
28
Titanolabis colossea
(Dohrn, 1864)
Giant Earwig
29
Titanolabis gigas
Steinmann, 1989
30
Zacheria dentata
(Burr, 1908)
31
Isolabidinae
Isolabis cavagnaroi
Brindle, 1987
32
Parisolabidinae
Parisopsalis spryi
Burr, 1914
33
Apachyidae
Apachyinae
Apachyus athertonensis
Mjöberg, 1924
Apachyus beccarii
Dubrony, 1879
my addition, however, the specimen on which this record is based is probably an Apachyus peterseni
34
Apachyus peterseni
Borelli, 1925
35
Apachyus queenslandicus
Mjöberg, 1924
36
Chelisochidae
Chelisochinae
Chelisoches ater
(Bormans, 1879)
37
Chelisoches australicus
(Le Guillou, 1841)
38
Chelisoches handschini
Günther, 1934
39
Chelisoches kimberleyensis
Mjöberg, 1913
40
Chelisoches morio
(Fabricius, 1775)
41
Hamaxas feae
(Bormans, 1894)
42
Hamaxas nigrorufus
(Burr, 1902)
43
Lamprophorella kervillei
(Burr, 1905)
44
Proreus duroides
Hebard, 1933
45
Forficulidae
Forficulinae
Doru spiculiferum
(Kirby, 1891)
46
Elaunon bipartitus
(Kirby, 1891)
47
Forficula auricularia
Linnaeus, 1758
European Earwig
48
Forficula vilmi
Steinmann, 1989
Opisthocosmiinae
Eparchus insignis
(de Haan, 1842)
my addition, on p.107 of Burr (1912) you read: 2.insignis [...] "Adelaide: male female 1875 (Mason) (? richtiger Fundort)" '?richtiger Fundort' means '?right location'.
49
Syntonus venus
Steinmann, 1993
50
Labiduridae
Allostethinae
Gonolabidura meteor
Steinmann, 1985
51
Labidurinae
Labidura riparia
(Pallas, 1773)
Common Brown Earwig
52
Labidura truncata
Kirby, 1903
Common Brown Earwig

sometimes considered as synonym of Labidura riparia (Pallas, 1773)

53
Nalinae
Nala lividipes
(Dufour, 1820)
Black Field Earwig
54
Pygidicranidae
Blandicinae
Austroblandex bituberculatus
Brindle, 1987
55
Brindlensiinae
Brindlensia jeekeli
Srivastava, 1985
56
Echinosomatinae
Echinosoma sumatranum
(de Haan, 1842)
57
Echinosoma yorkense
Dohrn, 1869
58
Pygidicraninae
Cranopygia daemeli
(Dohrn, 1869)
59
Cranopygia lueddemanni
Srivastava, 1984
60
Cranopygia ophthalmica
(Dohrn, 1863)
61
Dacnodes hackeri
(Burr, 1914)
62
Dacnodes shortridgei
(Burr, 1914)
63
Spongiphoridae
Labiinae
Labia minor
(Linnaeus, 1758)
64
Paralabella curvicauda
(Motschulsky, 1863)
65
Paralabella murrayi
(Kirby, 1900)
66
Paraspania australiana
(Mjöberg, 1913)
67
Paraspania brunneri
(Bormans, 1883)
68
Paraspania discors
Steinmann, 1985
69
Paraspania pygmaea
(Mjöberg, 1924)
70
Paraspania torpeo
Steinmann, 1990
71
Spirolabia pilicornis
(Motschulsky, 1863)
72
Nesogastrinae
Nesogaster amoena
(Stål, 1855)
73
Nesogaster halli
Hincks, 1949
74
Nesogaster rehni
Hincks, 1951
75
Nesogaster ruficeps
(Erichson, 1842)
76
Sparattinae
Auchenomus bifurcus
Steinmann, 1984
77
Chaetospania australica
(Bormans, 1883)
78
Chaetospania mjoebergi
Brindle, 1971
79
Spongiphorinae
Irdex hilaris
(Bormans, 1900)
80
Irdex unicolor
Steinmann, 1985
81
Marava arachidis
(Yersin, 1860)
Chief Earwig, Bone-House Earwig
82
Marava feae
(Dubrony, 1879)
83
Marava luzonica
(Dohrn, 1864)
Marava tricolor
(Kirby, 1891)
my addition, but a doubtful record
84
Spongovostox doddi
(Burr, 1914)
85
Spongovostox hackeri
(Burr, 1914)
86
Spongovostox nigroflavidus
(Rehn, 1905)
87
Spongovostox subapterus
(Kirby, 1891)
88
Spongovostox victoriae
(Burr, 1914)